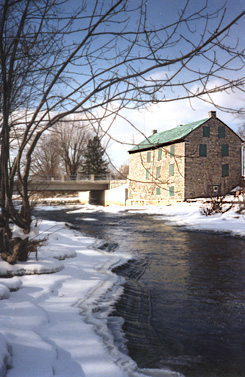 Photo courtesy of Yvonne Evans
The Martintown Mill was built in 1846 by Alexander McMartin. It is located in the centre of the village of Martintown in historic Glengarry county, Ontario. The mill is a charming, rustic building in a picturesque setting on the north bank of the Raisin River. It is a popular destination for tourists.

Built with local fieldstone the 4-storey Martintown Mill measures 30 x 55 feet. It served the village and region as a custom flour milling operation. The mill operated by water power that was eventually supplemented with a gas engine. Commercial use of the mill ended in 1947.

By 1986 the historic stone mill was near collapse. After several major stabilization projects the mill opened for public access for the first time in 2004.

Since 1997 the mill has been owned and maintained by The Martintown Mill Preservation Society, a non-profit organization. It is open for public visits on weekends during the summer.